Contact: +1 (876) 968-7522
Owning your own home is the dream of every Jamaican, it does not matter their station in life. Now with The Vistas at Runaway Bay, a tranquil community development in the cool hills of St Ann, that dream can become a reality.
The Vistas at Runaway Bay (Savannah Cluster), located in the cool hills of the garden parish of St Ann on Jamaica's fast growing North Coast, is a housing opportunity you simply cannot afford to miss!
With lot sizes ranging from 2,367 sq.ft. to over 9,000 sq.ft. and a choice of detached bungalows or townhouse duplex units, you are bound to find something to suit your taste and needs.
This latest development of Housing Agency of Jamaica is ideally suited for the professional family and returning residents who want to call a 'piece of the rock' their home.
Boasting all the amenities you need for today's active and comfortable living, The Vistas at Runaway Bay is a secure, gated community providing peace of mind to its exclusive group of homeowners.
But that's not all. When you choose to make one of these units your home, you will also be able to enjoy the additional facilities of a club house with pool and gym, jogging trail and tot lots. Plus, each unit is energy efficient, outfitted with solar panels, a solar water heater and a solar grid-tie system. You really could not ask for more!
The HAJ is proud to deliver for your comfort the first 80 units in this cluster:
– 50 townhouse duplex units and 30 detached bungalows.
The 80 townhouse duplexes and detached bungalows which make up this development offer spacious units on generous lot sizes with enhanced lifestyle facilities like jogging trail, swimming pool and club house.
Plus, each unit style offers additional land space well suited for future expansion. And with the limited number of units presently available in this phase of the development, you cannot afford to wait and second guess this opportunity.
Come home to one of these comfortable, spacious and affordable units in a most tranquil community setting in The Vistas at Runaway Bay…. It's an investment you won't regret!
So what are you waiting for?
Isn't it time you come home to the peace of mind you deserve? Come home to the Vistas at Runaway Bay… A most tranquil community setting with modern day family amenities.
The Vistas at Runaway Bay – COOL. SPACIOUS. SECURE.
1. Two Bedroom Detached Bungalow Units
Units Available: 30
Starting Price: J$13.5 million
If privacy is what you crave in choosing your dream home, then a detached bungalow Unit in The Vistas at Runaway Bay, is just right for you! Each of the available 30 detached bungalows comes with ample space, so there is room for you and your family to grow.
All units feature solar panels, a solar water heater and a solar grid tie system. Occupying almost 1250 sq.ft. of living space with an open floor plan design, the detached bungalow has a large kitchen, internal washroom, walk-in closet, a covered car port and front porch, all to make you truly feel at home!
Each bungalow features:
2 Bed / 1 Bath
Front Porch
Open Floorplan
Granite counter-tops
Internal Washroom
Ceramic Tiles
Walk-in Closet
UPVC Windows
Covered Car Port
2. Two Bedroom Duplex Townhouses
Units Available: 50
Starting Price: J$14.5 million
In this phase of The Vistas at Runaway Bay, buyers will be able to choose from 50 two bedroom townhouse duplex units. With a spacious open floor-plan, these well appointed units come complete with two en-suite bedrooms on the upper floor, providing commanding mountain & ocean views.
The townhouse unit occupies 1,306 sq. ft. of living space. On the lower level is a large living room, dining room, kitchen with granite counter tops, pantry, powder room and covered balconies. Each unit has its own parking spaces.
Each townhouse features:
2 En-suite Bedrooms
Onsite Parking
Open Floor Plan
Upper Level Planters
Pantry
Walk-in Closets
Powder Room
Linen Closets
Internal Washroom
Granite Countertops
Sitting Room
Ceramic Floor Tiles
Large Balconies UPVC Windows
Open House Ceremony
| | |
| --- | --- |
| Starting Cost | $13 Mil & $14.5 Mil |
| Property Type | Bungalow & Townhouse |
| Bedrooms | 2 |
| Bathrooms | 1 & 2.5 |
| Number of Houses | 50 Townhouses & 30 Bungalows |
| Number of Lots | - |
| Unit Size | 1,248.6 sq. ft (Bungalow) & 1,306 sq. ft (Townhouse) |
| Lot Size | 2,367 sq. ft (starting) |
| Expandable? | Yes |
| Commencement Date | 2016 |
| Contractor | China Harbour |
| Status | Sold Off |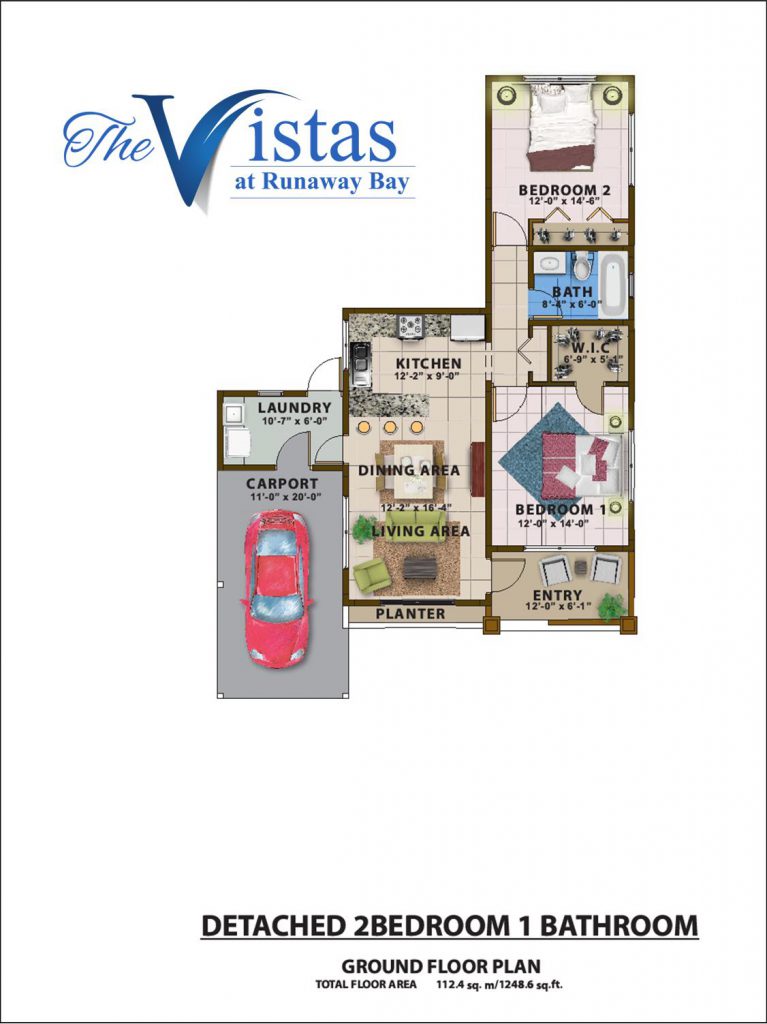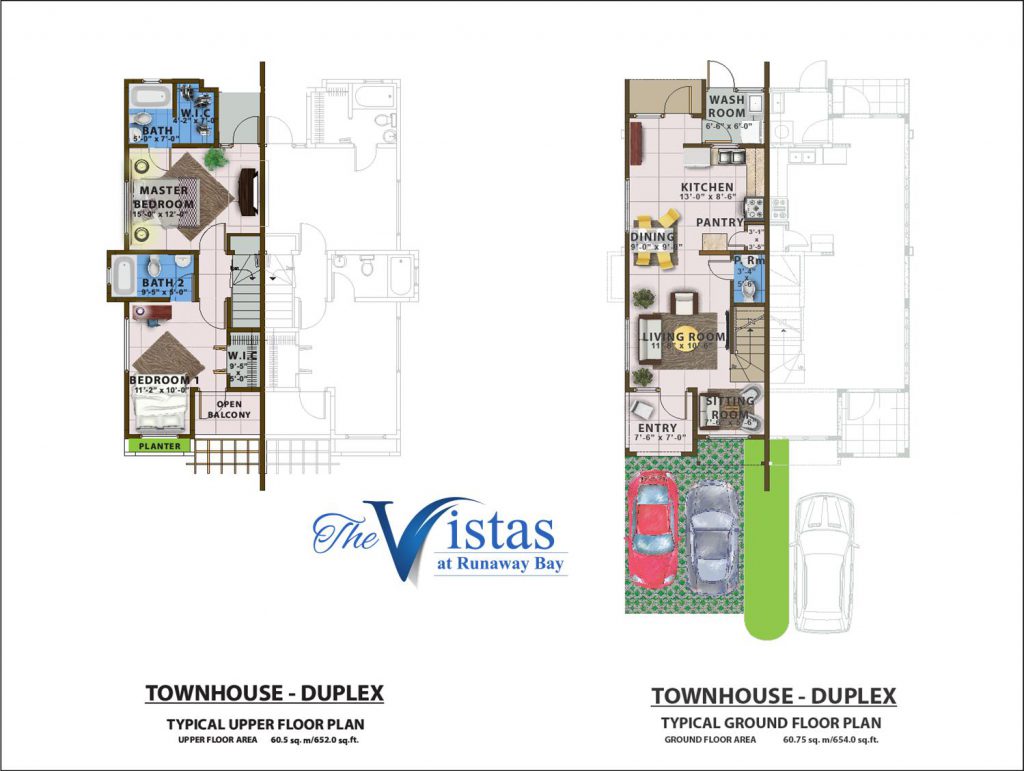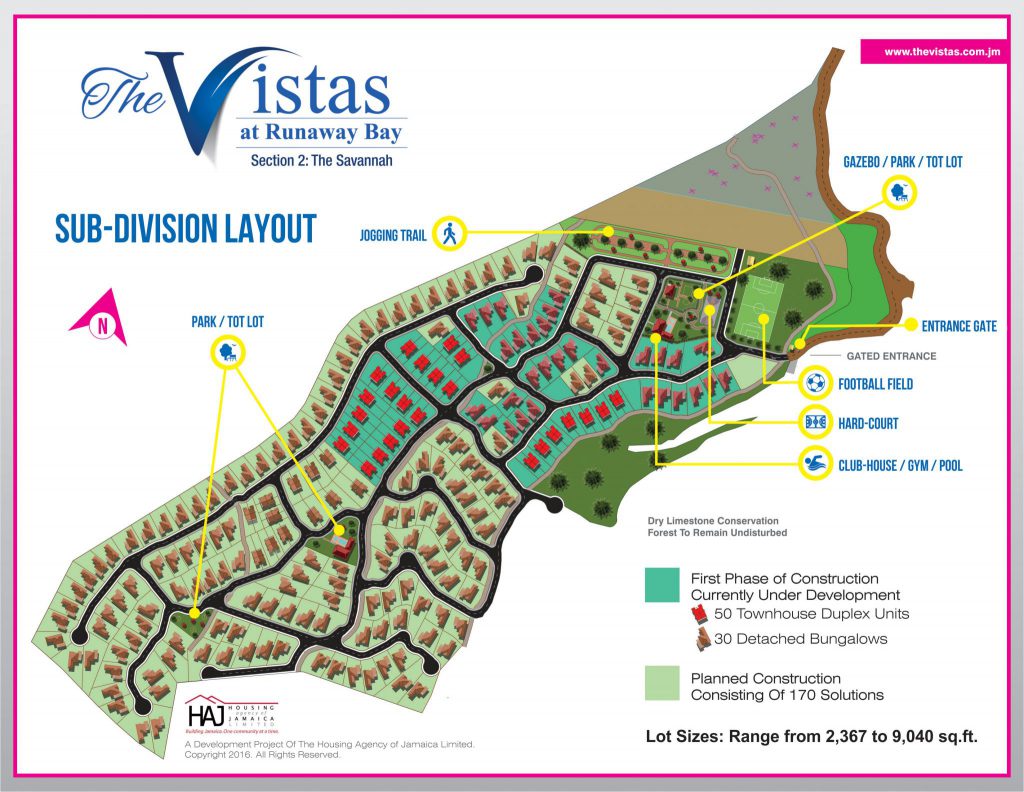 On Sunday, December 18, 2016, the gates of The Vistas at Runaway Bay housing development were flung wide open and members of the public came out to view the two-bedroom units at the Open House & Launch Ceremony. Scores of interested buyers took the opportunity to get a first-hand look at the property and to discuss how to make one of the units their new abode. The site was formally unveiled by minister without portfolio in the Ministry of Economic Growth & Job Creation, Hon. Dr. Horace Chang, MP who shared in the special occasion. See photo highlights below from the event.